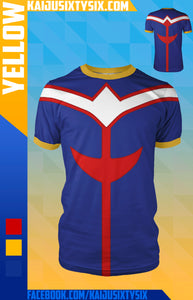 All Might Shirt! [Limited]
The shirt is made from Polyester. The print is printed into the fabric itself so it won't crack or fade over time like regular chest prints.
Please have a look at the size chart before ordering. If in doubt, compare the size chart with measurements of similar clothing you might own. The shirts fit is considered athletic/sport, so generally go a size up if you are close to a size. If you bought a shirt from us before, please note that the sizes have changed as these shirts are a different cut/material to the previous shirts.